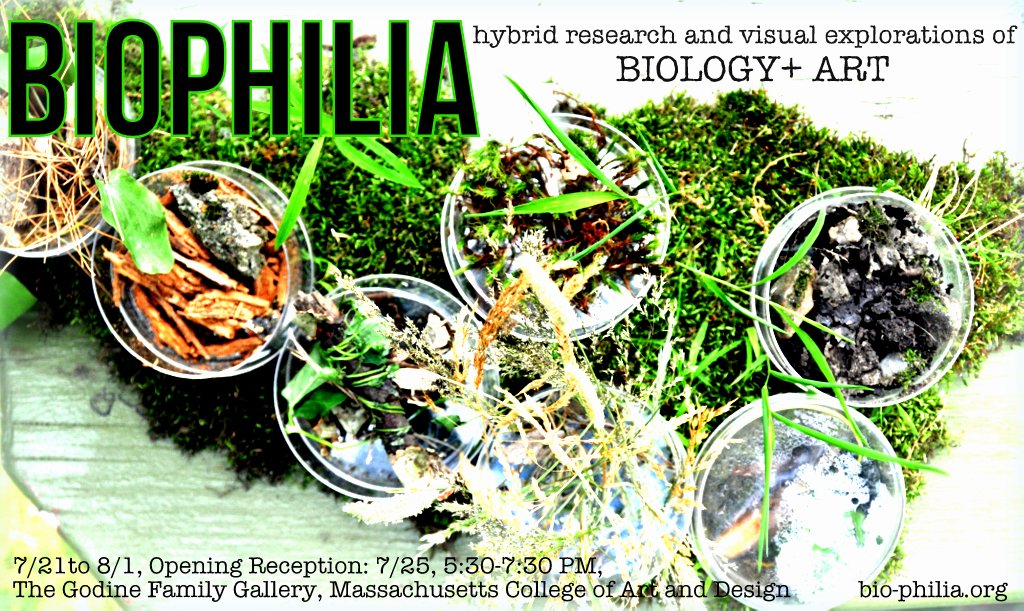 BIOPHILIA
is an exhibition of experimental BioArt and SciArt from 15 artists in Dr. Saúl Nava's Field Bio+Art: Collaborative R.N.A. (
R
esearch in
N
ature and
A
rt) and Natural History and Biological Art courses. These artists turned the Middlesex Fells Reservation into a studio+lab for studying nature, plants, and animals and for exploring novel methods of biological inquiry. This exhibition features a "Citizen-SciArt" installation created by participants of the Phylo+Insecta public event at the Harvard Arnold Arboretum on Friday 7/25.
Dates:
July 21- August 1, 2014
Location:
Massachusetts College of Art and Design
The Godine Family Gallery
North Building, 621 Huntington Avenue Boston, MA 02115
Click here for map.
Opening Reception Date:
July 25th, 5:30-7:30 PM, with food and refreshments and music by
COUPLES COUNSELING
at 6:30PM.